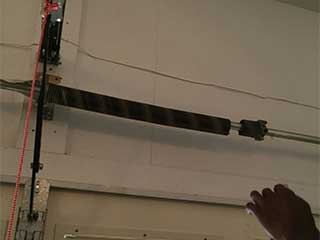 How Do They Work Exactly?
Unsure about why there's a need to worry about your door's springs to begin with? We can help explain! Your garage door is heavier than it may look, and it requires a lot of energy to be lifted up off the ground when you need to get going with your day. The springs are what provide that energy! They store it via tension, and release it as needed to be used for pulling up your door, which is why it tends to be noticeable if something is off with them such as the door struggling to move or refusing to entirely.
DIY Is Highly Inadvisable
This is true for most repair work and otherwise for your garage door, but the springs especially are too dangerous to be handled by anyone but a professional. Since they hold the weight of your door, any mistakes can cause the door to come crashing down, continue to be stuck shut, or not move properly which will wear down the other parts as well. The spring may also become loose and disconnect, which can be harmful to you or your garage. In any case, letting a trained technician handle it is for the best.
Does The Type Matter?
Our experts can tend to either type, torsion or extension, but it does matter when it comes to safety and the lifespan of the spring. Extension springs work by being stretched to their limit and this constant strain wears them down quickly. It also causes them to snap when they break, which can be dangerous. Torsion springs instead twist to store energy, which is far less strenuous and they won't go flying if they break.
Adjustments And Replacements
Whether your spring just needs a few adjustments or needs to be switched out entirely for a new one, our professionals will take care of it for you easily!
Don't Wait Much Longer
It's time to call Garage Door Repair Huntersville today for your springs' needs!
Some Expert Advice
My garage door spring tension is weak. What should I do?
Tightening the springs isn't too complicated, and unlike replacing them it doesn't call for any new components, but you shouldn't try it yourself unless you've been thoroughly taught how, as even a slight mistake can result in a dangerous release. Avoid using the door as much as possible until you can have someone adjust the spring tension and get the cables properly wound up again.
Can I replace a broken garage door spring myself?
The springs are the one component of a garage door that amateurs are most strongly warned against touching themselves. Every year, people are injured and sometimes even killed by broken spring parts flying loose and whipping or shooting across the garage during botched replacement attempts. Leave this job, and anything else that requires manual manipulation of your springs, to the professionals.
How can I tell which type of garage door springs I have?
The two basic types are torsion springs, and extension springs. It's easy to tell the difference between these two; torsion units will be coiled tightly around a bar that runs along the top of your garage door, while extension units stretch across the ceiling away from the door. To find out what size your springs are, look at the number on the winding or stationary cones attached to their ends.
Count on us when it comes to:

Broken Emergency Release

New Garage Door Keypads

Broken Cable Replacement

Garage Door Weather Stripping