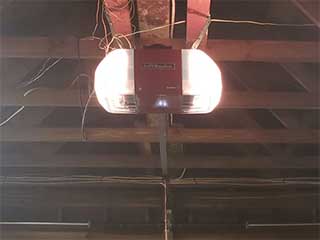 If your garage door opener isn't in good shape, your door won't be going anywhere very easily! That's because the opener gets all the parts going while the door is moving. This is why it's fairly noticeable when there's a problem with signs such as a lot of noise occurring while your door barely seems to work (if at all), shakiness, and reversing suddenly. If you notice these incidents it's best to call our professionals right away to take care of it, otherwise the damage will continue to spread to the rest of the system and cause more problems.
Professional Opener Repairs & Replacements
You can rest assured thanks to our years of experience and use of the finest parts and tools available that your opener will be working like a charm once we're done with it. We'll get to the bottom of what exactly is causing the problem, be it a part that needs repairs or to be replaced entirely, and take care of it. This is bound to happen over time from daily use, as well as from rusting if moisture gets in, but we'll handle it right away. If the opener is due for an upgrade, we can also assist you in getting it replaced entirely.
Fast & Trustworthy Opener Installation
Our team works with all of the most popular opener brands in the market, so no matter if it's a Genie or Craftsman, you can rest assured that we're knowledgeable and will be able to assemble and install it. Whether you've already purchased your new opener, or need help finding the right model, we'd be glad to lend a hand. Letting an expert take care of putting it together and installing it is ideal to be certain that it'll work correctly and for a long time.
Talk To Our Team Today
Contact Garage Door Repair Huntersville and let us tend to any and all of your opener's troubles now!
A Few Informative Answers
Do you have some LiftMaster garage door opener troubleshooting tips?
LiftMaster openers come with a handy feature that helps you identify problems when they happen. This self-diagnostic system presents you with two little arrow icons, one pointing up and one pointing down. When there's a malfunction, these arrows will blink a different number of times each, with each combination indicating a different sort of error. Look at LiftMaster's website for what each blink code means.
What garage door opener is best when comparing the three main types?
Chain drive openers are the most affordable option, but also the noisiest, and thus better used in detached garages. The belt drive options are the quietest and most unobtrusive, but also the most expensive. Screw drive openers are a compromise between the other two in terms of noise and cost, and also tend to be lower maintenance due to the fewer moving parts involved.
Need more? We also provide:

Fix Garage Door Track

Door Level Alignment

Bottom Seal Rubber

Replace Door Sections