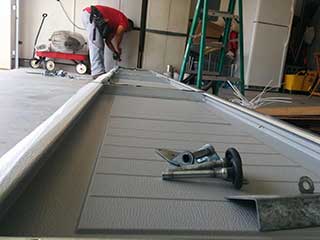 Sooner Is Better Than Later
When it comes to your garage door malfunctioning, the faster you get the problem taken care of, the better off it'll be! Even if your door is able to continue to limp along, the longer it continues to function with broken components, the more the damage it will sustain due to the stress. Rather than have more problems to deal with later on, it's much easier to get it taken care of now! Keep an eye out for trouble such as your door dragging, or dents in the panels, and give us a call if you notice anything odd.
Expert Roller Repairs Or Replacements
If you've noticed that your garage door seems to be slowing down, the issue may be because of the rollers. They reside in the tracks and help your door to slide along them, but if they've grown rusted or worn out over time, they may be making it difficult. Our technicians will clamp the door in place for safety before prying the tracks open to take a look and see if the rollers can be repaired, or will need to be replaced entirely. In either case, we'll have it fixed right away and get your door moving swiftly again!
Ensure Your Door Looks Pristine
The last thing you need is for your garage door to look shabby and broken down due to cracks, scratches, or otherwise! Not only does it make a negative first impression, it's not good for the door to function with a broken panel and the harm can get worse and harder to repair over time. Our experts can repair smaller issues right away and get it looking like new again, or replace an entire panel if the problem is extensive enough. We'll find the right size and color of panel so nobody will know the difference!
Contact Our Professionals Today
Call Garage Door Repair Huntersville now for any and all of your garage door's various needs! You'll only wish that you got in touch with us sooner.
Additional Information You Can Use
Why isn't my garage door opening?
So the garage door isn't budging even a tiny bit, and you've made sure it isn't safety locked and its manual override is shut. The problem probably lies with either the opener, the controls, or the springs. Opener failure is the most likely of the three; make sure the opener is plugged in and hooked up. If you can't find the problem yourself, don't hesitate to call in some professional troubleshooters.
Garage door closes part way then opens again. Why does it do that?
This issue usually has two leading causes. Safety sensor misalignment, and remote or wall panel controls that are stuck repeatedly sending an "open" command. Check the lights on the sensors, and try resetting your remote. It is also possible that something has somehow gotten jammed into the door mechanism while it was open, or that the extension spring system (if your door has one) is severely damaged, but this is much less likely.
Our team can also take care of:

Garage Door Off Track Repair

Garage Door Safety Inspections

New Opener Remote Controls

Emergency Garage Door Service